Andrei Kapralov:
«I COULD'VE WENT TO AMERICA, BUT IT'S TOO LATE»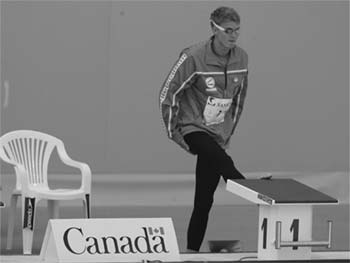 Photo© Alex Wilf
Andrei Kapralov
Andrei Kapralov. Born on October 7 th , 1980 in Leningrad . Russian National Team member since 1998. 1999 European Bronze medalist in 4x100 freestyle relay. 2000 European champion in 4x100 freestyle relay. 2002 World medalist in 25m pool (silver and two bronzes). 2003 World champion in 4x100 freestyle relay. World Cup events winner, 2001 – 2004. 2003 University Games champion. European records holder in 4X100 freestyle relay. Russian record holder in200 m freestyle (25m pool) and 4x100 freestyle relay. 24-time Russian National champion. 2003 St. Petersburg 's Best Athlete. Honored Master of Sports. Coach – Sergey Tarasov.
There are interviews where you have to pull every word out of the person. You hear the meaningless answers being recorded and hope to end the needless conversion soon. Suddenly, a barely visible connection is there and it grows to be such a surprise that you only ask why was it on the backburner for so long?
That's who the interview with Andrei Kapralov went.
THE RELAY SWIMMER
I first noticed Kapralov at the Mare Nostrum – an international summer event in France . He was watching French swimmer test the new model of fast-speed Arena bodysuit that wasn't on the market yet. I couldn't help but ask, «Would you want to try it?»
His eyes were so full with such an open boyish jealousy, I took a chance and went to the firm's representative. His immediate reactions was, «What size? Here it is».
Kapralov wasn't even 20 then, he was making a progress at each event, and it was no surprise that he was viewed as a person who is about to become a second Russian sprinter in the World elite. There, at Mare Nostrum, he was giving his first interview, talking with excitement how he competed for the first time at the age of 8, how doctors diagnosed him with anemia that was genetic, and forbid him from practicing; how he had a false start at his first relay at European Juniors in 1998 when Russian swam the fastest, and how he dreams about defeating Ian Thorpe one day, the Australian that the whole World was talking about before the Sydney Games..
At the Games, Kapralov beat his personal best at 200m twice. On the large scale, it wasn't important, but he kept progressing. Before 2001 Worlds, Andrei swam 100m freestyle under 50 seconds for the first time, completing the selection requirements, and … he was disqualified for not notifying Russian Swimming Federation when he accepted the invitation to compete at international commercial event in Austria that caused him being late one day for the training camp.
It wasn't the swimmers personal fault, almost. Another person organized the trip, and as it turned out later, he simply falsified the documents that allowed the trip. That incident hit Kapralov directly.
He wanted to go to the Worlds so much, he was grabbing any opportunity to make the team. Shortly after the trials, he swam 100m under 50 seconds again, believing up to the last moment he would make the team, but the team went to Japan without him.
Then, it very much looked like someone wanted to get at either Kapralov or his coach Sergey Tarasov personally. World record holder Roman Sludnov also competed at the same event in Austria , and his disobedience was forgiven. Before the Worlds, it was clear that Kapralov's disqualification will seriously hurt the team as a whole. Not only Russia was left without the best 200m swimmer, the team lost any chance for both men's freestyle relays. Later, three relays would suffer. After coming to Fukuoka , it turned out that Popov is sick and can't compete in Japan.
From the team's management point of view, the sanctions for Kapralov were necessary as simple behavior-changing goals. There was a precedent when Andrei was temporarily off the team after being caught with the cigarette at 1999 Worlds in Hong Kong . The swimmer immediately realized what he did, and had no problems with discipline ever after. In 2001, it was the reverse effect. The swimmer who seriously trained for the season and didn't feel any guilt was down for a long time.
THE TRIUMPH AND DISAPPOINTMENT
Kapralov wasn't very luck in 2003 season. He wasn't able to make the required time at Russian Nationals to be selected for Barcelona 's Worlds. Mare Nostrum could've been his second chance, but Andrei didn't get to go there with not so good performance in Moscow being the reason.
The decision had no logic behind it. Finally, Russia had a hope for a strong sprinter who would not only be able to backup Popov in individual events, but more importantly in relays. Kapralov proved many times that he is able to fight for the team with more courage that he would for himself.
«In theory, we had a chance to go to Mare Nostrum if we paid for it. Izhorec club where I swim couldn't find them money. My coach and I didn't have it either», - he said at the time.
The swimmer finally made the required time at Moscow Cup. Before that, Kapralov managed to go to the training camp in Volgograd with his coach, and after that, Andrei should an unbelievable result for Russian sprinter – 49.19. Tarasov was again offered to pay his own way for the final training. He couldn't afford it, just like he couldn't afford the trip to Barcelona . Kapralov became the World champion without him seeing it. He won the gold in freestyle relay 4x100, the relay that the Americans had never lost before.
Anyway, that victory just made Kapralov's life in sport better just for a short time. He returned to his home in Kolpino to face the everyday problems. At times, there were difficulties with finding a place to train, plus he had to think about his family with his one-year-old son growing. The Olympics were coming as well.
In Athens , everything went wrong for Russian swimmer. Nobody would think before the Games that Popov can loose. The bad overall results turned into finger-pointing. The team was breaking apart right in front of our eyes.
Before the Games, Kapralov mentioned several times that he hopes for the medal in the relay and maybe in 100m. He was discouraged as well. He didn't make the final at his best event, 200m, he swam his leg at 4x100 worse than in preliminaries, and he was last at the 100m final.
When I tried to talk to him, he sounded as he didn't care, "I'm all right. Why do you think I'm upset?"
What happened after wasn't the best case scenario. Kapralov worked without a coach for a while, and the break-up wasn't pretty. He competed at the Worlds in 25m pool at Indianapolis . Then, he had three victories at World Cup event in Korea , where strong competitors were absent. Only in March, when the results fell to catastrophically low, he returned to his old mentor. His four victories in June at Mare Nostrum where more than deserving, unlike the ones in Korea . When I asked for the interview, Andrei again sounded like he didn't care, «What can be new with me? It's always the same».
TIME AND MONEY
Kapralov finally agreed, but the conversation was very much «in pieces».
- What were your feelings after the Athens ?
- Regular feelings. Olympics are always a holiday. I was only unhappy with my results, but I swam and I forgot about it.
- Immediately?
- Why not? Games are no different from any other competition. The first Games, in Sydney , yes, I was shaking when I was put to swim first leg in the relay. I didn't rest after the Athens . After I came home, Kolpino's District manager gave me money so I could go to the training camp because our pool was closed. I spent 15 days there with my wife and son, and then I went to the «Ozero Krugloe» base in Moscow 's suburb, and I went to Indianapolis Worlds from there. I didn't swim well there, the practices weren't right. I thought it was interesting to see what I would able to do without having the pressure. I found out I can compete decently.
- But if there is pressure and you work like you are supposed to?
- Why should I work more? What would that bring?
- What do you mean?
- In Russia , how fast you swim and how much you make is not connected. Yura Prilukov swims fast, so what, he makes more money? I don't believe it. Same thing with Roma Sludnov. I'm tired for working for free. I'm still working but a lot less then before, pre-Olympics.
- So, maybe you should go somewhere?
- Where? I thought about going to the USA competing for the University. My family would've understood, but the foreigners are only accepted there before they are 25. I'm already 25.
- So, every practice is a torture?
- Yes.
- If you see the practices this way, how come you swam so well at Mare Nostrum?
- You think I did well? At any serious competition, I wouldn't make a semi-final with these results.
- Would you like to make a semi-final?
- And the final as well.
- You are contradicting yourself. You want to do it but you don't practice.
- Something like that.
- Why are you still swimming then?
- I make money.
- Which money?
- Any money…
- And you don't see any sense in striving for something
- Probably. Even if I become a World champion, best case scenario, I would get the prize money in a year, year and a half. And that's it. .
- Maybe you should retire.
- I like to swim. I want to swim…
I couldn't take it anymore and I smiled, «In this case, I think you should not only be interested in the money, but in the result as well». Suddenly, Kapralov couldn't stop. His voice was crisp.
- I'm interested in the result, but when I constantly think that I have a debt for the apartment that I bought, not received, I can't think about anything else except making money any way I can. If not for the prize money at Mare Nostrum, I would've not fought so much. To defeat Salim [Iles] at 100m in Monaco , to win 200m. You asked about the Worlds. Yes, I want to go there, but I can't stop thinking that this trip is not only the competitions, but also the daily stipend.
- But this is so little.
- It's not important. It's money. I've never thought about it until I bought the apartment. My wife, son, and I live with my parents, we have a separate little room. We are waiting for the house to be built, we couldn't afford to buy the home that was already finished. Before the purchase, we had enough money to live, especially when I went to the training camp…
- There are some discounts and benefits.
- I talked about it with Kolpino's government for five months until it was made clear to me that I should stop coming in with my problems. I asked through my coach to ask some letter to St. Petersburg's governor Valentina Matvienko so I would get at least 20% discount for buying a place to live. I don't know if they reacted to it at all. What should I expect, someone saying again, «Don't be afraid to win?»
- Did you try to look for sponsors?
- Kolpino's Mayor advised me to turn to one person. I did and got five thousand rubles. It's helpful, but I'm not sure this relationship is a sponsorship. I train at Izhorec Sports Complex whose director loved to make a lot promises. He particularly promised that I would receive salary from the club. None of the promised things were done. Only recently he gave me money, so I could buy the swimming trunks. Still, I have normal training conditions. Nobody is kicking me out of the pool and I have a separate lane where I'm the only one who swims.
- Does the National team coaches know about your problems?
- I think they don't have to know about it. What would that change?
P.S. I remember being shocked when World record holder Roman Sludnov said that first of all, he is interested in money when it comes to his sport. He said to the interviewer, «Medals are god, but they won't feed neither me nor my family».
Many judged the swimmer behind his back. It was really hard to resist since Sludnov clearly concentrated on the commercial events and was out of shape every time where the team's interest was important. Maybe it was just the coincidence, but the swimmer got the reputation of a cynical pragmatist.
A different example was right in front of our eyes – Alexander Popov, a person who was ready for any sacrifices so his team would win.
Let's be honest. It would've been unlikely that Popov's career went the way it did if he would've not left for Australia in 1993. In 1996 After Popov just recovered after the injury received in the knife attack and was going to fly back to Australia again, these words were said in one high-up office at the Russian Olympic committee, «Why should we pay for the business class ticket? He will never swim again…»
I still remember how very upset Natalia Roschina, Sludnov's mom and coach was in 2001. Roman became the World champion and the World record holder as well as the first swimmer ever to swim 100m breaststroke under a minute. Our newspaper named Ruslan Nigmatullin, a good goalkeeper for the pretty average soccer team, the athlete of the year. In my opinion, the incident wasn't attention worthy. Who would take some reporters' poll seriously? Roschina was desperate because of lack of the money, because of attempts to solve the apartment problem in Omsk so the commute to the pool would not take an hour one way anymore, becaue of other problems. When the newspaper made its way to Omsk , it became a public slap in the face for Roschina. Maybe that's when it came up for the first time, «Who needs it?»
It's much easier in soccer or hockey. Most of the team sports became a business long time ago and the athletes clearly know why and for how much they do their job. The players problems rarely become the coach's problems and this is absolutely correct.
When there are no money, you need the ideas. The great idea that would push everything to the background except the strive to win. Russian team's head coach said, «Don't be afraid to win». These are right words. The only thing is that in life, when a person is to face the problems alone, everything is much more difficult.
2005