Albena Denkova, Maxim Staviski: UNPREDICTABLE GAME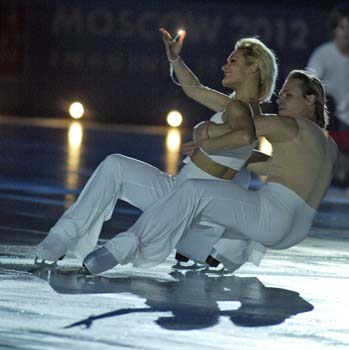 Photo© Alex Wilf
Albena Denkova - Maxim Staviski
On April 17th, Albena Denkova and Maxim Staviski, 2004 World vice-champions in ice dance who represent Bulgaria, officially announced they are leaving their coach of eight years Alexei Gorshkov.
The skaters stated their fifth place at Moscow's Worlds as the reason and also mentioned that many experts have been recommending a coach change for several years since they don't see any promise for the future growth of this team in Russia.
It isn't rare for the famous and successful skaters to change coaches, especially in the pre-Olympic season. Still, it very rarely happens for the skaters to leave one coach before finding the other. This is what the situation with Denkova and Staviski looks like. According to Gorshkov, Albena and Maxim came to his house to say good-bye, and they didn't know who will train them for the Olympics yet. They named two most likely candidates – Natalia Dubova and Natalia Linichuk.
Let's think how can this switch affect the Olympic results, if it can at all, in the situation where many tend to predict a victory for Tatiana Navka and Roman Kostomarov
LAST YEAR
It would've been more logical for Denkova/Staviski to switch coaches a year ago. They almost became the World champion in Dortmund, losing to Navka/Kostomarov only because they didn't have the judges' support that Russia always had at the international arena. Many stated that this was the reason Denkova/Staviski were second at Europeans in Budapest a month before the Worlds as well. This can be argued since Navka and Kostomarov gave only one reason for the criticism – a free dance that left a bit light- weighted impression. However, they danced it great while Albena and Maxim weren't at their peak yet. That's possibly why the Bulgarian skaters didn't get very upset in Budapest since they felt they are making a progress day by day and sincerely believed they will have a chance to compete for the gold. Their hopes died in Dortmund.
The Bulgarian team's performance became one of the main topics for the backstage discussion. Their dance was the most difficult, filled with many interesting details, and it left a wonderfully whole and really exceptional impression that even the champions didn't manage to leave despite skating very well.
We are skaters, - Denkova said with sadness after the medal ceremony. - Our job is to train and fight to the end. Of course, we hoped to win. After the last season, we changed the choreography, the dances, our looks; we made a lot of changes. We wanted to look different and I think we succeeded. We've heard so many good words from the fans, media and the coaches. Of course, we understand we will probably be never allowed to win, but we don't want to understand this.
In Dortmund, it also became clear that Gorshkov ended up in the crossfire since it is Russian Federation who provides him with the working conditions in suburban Odintsovo and no Russian judge ever will risk giving his vote to the Bulgarians against Navka/Kostomarov. It was rumored that when the coach saw the final results, he felt at ease, since it's sort of a great achievement – the Bulgarian dancers never rose so high, and at the same time, they didn't cross Russia's road.
Also in Dortmund, talks about Denkova/Staviski changing coaches started first. After the competition, the skaters talked to Natalia Dubova several times, and she herself gave a tough but very reasoned interview where not only she said that the Bulgarian team was the best, she also noticed that Denkova/Staviski don't know their own value, don't get the needed attention and by continuing to train in Russia, are being the hostages of the politics.
Everyone got the hidden message of that interview – the way to Lake Placid where Dubova works is clear and it's almost decorated with welcome banners.
The change didn't happen. It can be understood – Albena and Maxim grew in Odintsovo and it was very hard for them even to think about breaking a relationship of many years that brought such a good result.
CURRENT YEAR
This season, Denkova and Staviski noticeably gave away their position. Albena's illness that made them withdrew from the Europeans wasn't the only reason. Early in the season, disagreements within the team made the practices less productive. It's hard to call their fifth place finish in Moscow a 100% result of the judging conspiracy. It's just that Albena and Maxim were on the same level with many skaters and looked much worse then they did last year, and at the same time, Navka/Kostomarov, Delobel/Schoenfelder, and Belbin/Agosto made a visible progress.
That same year, a second Gorshkov's team, Domnina/Shabalin moved up. They were 15th in 2003, 10th a year after, and 8th in Moscow. It's not hard to assume that this would be the team that'll take the leader's spot in Russian dance after Navka/Kostomarov retire and it would be in the country's best interest for Domnina/Shabalin to get the highest possible result in Turin and that Gorshkov along with the choreographers must pay the most attention to them and put the larger part of their creative fantasy into them. As it often happens, the other students start thinking that they are being sacrificed
Maybe Denkova and Staviski felt that. Maybe it was the coincidence – not being in the best shape, not having a very good choreography, failing in placements and having a desperate desire to find some solution. In any case, the official statement that was made on April 17th was born much early. It was first said out aloud on March 22nd at a press conference in Sofia.
NEXT YEAR
Any ice dance competition, especially the Olympic one, is the game first of all, and only after that, the sport. No matter how hard the skaters and the coaches worked, the success is defined not so much by this fact, but by who will be on the judging panel and how they would behave in the needed moment. Just remember 2002 Games, when Anisina/Peizerat, a clear favorites, outran Lobacheva/Averbukh by wonder – by one judging vote. Just a year before, many didn't even see the Russians as the medal contenders.
The new rules didn't change the meaning. Moreover, now only one person can play a deciding role – a technical controller. If Denkova/Staviski are seriously planning to compete for Olympic medals (otherwise, it didn't make sense to leave their coach), they have to look not only for good coach, but for the influential one, who has the name, the weight and the ability to ensure the extra support.
It's a matter of a principle now. On one hand, it's almost an impossible goal to rise to the podium from the fifth place. On the other hand, in the current situation, when the leaders don't have the overwhelming advantage, and the five teams behind them are practically even in skill, a certain coincidence can become decisive.
Denkova and Staviski went overseas to look for their fortune. Who did they go to? The most likely candidates are really Dubova and Linichuk. Neither one of them has strong dancers now and maybe both would enjoy grabbing the opportunity to return to the Olympic elite with the Bulgarian skaters. There is a negative as well. When a coach doesn't have strong dancers (ideally from different countries), a coach doesn't have her «own» judges.
Another possible option is working with Igor Shpilband, the best ice dance coach in America. He comes from the Soviet school and coaches Belbin/Agosto. If Tanith will get the US citizenship before the Games and the team would be allowed to compete, these skaters can become the biggest threat for Navka/Kostomarov.
However, there is almost no chance for the citizenship problem to be solved. That leads me to the assumption that Denkova/Staviski can try to turn to Shpilband for help. In this case, no doubt, the coach will put all his efforts and influence for placing his new students as high as possible in Turin and won't look like he betrayed the nation since Denkova/Staviski are most likely to retire after the Games. It's possible the judges would support them as well, mainly of all those judges who traditionally don't like Russia that much. Unlike Dubova and Linichuk who are seen as Russians despite residing and working in the US for a long time, Shpilband is considered an American.
Anyway, one more candidate from Russia looks much more interesting – Nikolai Morozov. According to his coworkers, this coach who is working successfully in Simsbury and married to Canadian World champion Shae-Lynn Bourne, has powerful connections in Canadian, Ukrainian, French, and American skating circles. At the first glance, Morozov shouldn't be interested in the Bulgarians as his Ukrainian students Grushina/Goncharov plan to compete for the Olympic medals as well. The old school coaches still think it's not ethical to take the students from the side if they already have the same level skaters in the group. However, working in America makes any expert worry about his own rating first and ethics are often moved to the background. Morozov, who worked with Tatiana Tarasova for several years when he started his career, didn't think of it being wrong when he worked with his «own» Sasha Cohen as a choreographer and at the same time choreographed for rival Michelle Kwan.
Assuming Denkova/Staviski find common grounds with Morozov, he'll automatically get support from the Bulgarian Federation, meaning a judge. No doubt, two equal teams raise coach's chances for success twice as much. It could come to the point that with a certain coincidence, one of them can push Navka/Kostomarov from the top of the Olympic podium.
Naturally, all of it just the assumptions. One thing is clear – Denkova/Staviski flew away from under the Russian wing and became a figure on their own in the big Olympic game, and this game can have some unpredictable consequences.