Andrey Bukin:
«WHEN MY SON PLACED THIRD AT THE EUROPEAN CHAMPIONSHIPS,
I YELLED WITH DELIGHT ALL NIGHT »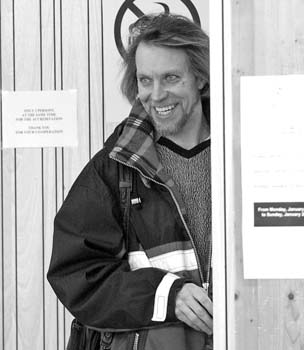 Photo © Alex Wilf
Andrey Bukin
- Andrey, during your career in sports, you had become four-time world champion, five-time European champion, had silver medal from the Olympic Games in Sarajevo and Calgary gold. And you told me once that the theater gives you more thrills than the sport.
- It's true.
- What did the sport give you, besides the medals?
- The biggest life lesson was not even the sport itself, but working with Tatiana Anatolyevna Tarasova. If not for her, my skating career could end already in 1976. Natasha and I were working ten hours a day, almost collapsing after each day of training. It was then that I learned, first of all, to be patient, and secondly, to distribute my energy in the most rational way. I'm with the theater, I think, since 1989, and everything I do on the ice, it's that training, that basis.
If I didn't have that basis, I think, I would have finished my artistic career long time ago. Of course, my legs are not what they used to be. But they still work, don't they? I like it when people come to the theater, I like to work with professionals. In general, I like to see people who do their job with pleasure.
Unfortunately,there aren't many skaters nowadays of whom it can be said that they enjoy performing and competing.
- Did you, when you skated with Bestemianova?
- By the end of our career - yes. At first everything was too strained.
- Have you ever asked yourself, when you were still competing, why you were doing it? All the hard work, pain, stresses, sometimes even humiliation, what was it for?
- For the first place.
- Which Tarasova had always been obsessed with?
- Natasha and I had exactly the same attitude. Even back when we made our way from the level of the third team of the country and realized what we had already been far behind Jayne Torvill and Christopher Dean. Instead of thinking about fighting with them, we spent too much energy making our way out of the country.
- Have you ever talked about it with your son (Ivan Bukin - European bronze medalist in ice dance with Alexandra Stepanova)? Did you explain him that gold medals are worth it? Or, like many figure skaters, you didn't want your child to be in the sport at all?
- To be honest, at first his skating was hard, both for him and for Lena and me (Bukin's wife, Elena Vasjukova, is also figure skater). He did not want to skate at all. But his grandmother, despite our objections, set out to make a figure skater out of him. Ivan was doing everything possible not to go to training. To the swimming pool, he was ready to fly. When it was time to go to the skating rink, he immediately got a headache, stomach pain, sore throat... The first time I noticed a change for the better was when we were all together at a training camp in Latvia. He was ten years old, and at one practice he suddenly did all double jumps. By the standards of figure skating, it is very late. At ten, boys already do all triples. But it didn't matter. I suddenly saw an excitement in his eyes. He liked the feeling of accomplishment. That's when he began to take training more seriously.
Another question was that he was not fit for single skating in principle — he was afraid of falling and because of that he did not go for more difficult jumps. More precisely, he did, but he underrotated, landing on both feet. But he could do well in ice dance. His first coach Andrei Olekhov taught very good basics from the very beginning. It is very difficult to teach, you can't rush learning jumps. But thanks to that work, Ivan always had the highest speed, despite not being a very good jumper.
So when we were offered to pair Ivan with Lena Ilinykh, we immediately said yes. We realized that there might not be a second offer like this - the boy who does not even know how to approach a girl, not to mention how to touch her, to team up with such an amazing dance partner. Because it was clear that Ilinykh was a terrific partner, even when she was ten years old.
I know that Lena's mother wasn't very happy with me when I first worked with them, for about three months. She thought I wasn''t paying attention to her daughter. But at that time I tried hard to teach Ivan to be a partner, so that he would start skating with her, doing elements, instead of simply standing there in front of her, blushing or paling.
By the way, I am immensely thankful to Irina Zhuk and Sasha Svinin for taking Lena and Vanya to their group and making a proper team out of them.
- Why did they split?
- Lena's mother always thought that the coaches did not pay them enough attention. Actually, it was normal: Ira and Sasha were preparing Yana Khokhlova and Sergei Novitsky for the Olympic Games in Turin, it was clear that they spent most of their energy working with them, and they didn't have much time left for juniors. But Lilya (Elena Ilinykh's mother) suggested to switch to other coaches. We refused. I did not see, frankly, more preferable coaching «options». Not to mention the fact that I always liked how Zhuk and Svinin worked.
- So you had to look for another partner for your son?
- Yes. It turned to be more difficult than we had imagined. Lena left on September 16. I remember it, because it is Ivan's birthday. And Sasha came in February. That is, we have been looking for a partner - everywhere - for several months. And then we got a call from a friend form St. Petersburg, and he said that he knows just the right girl. He told us to watch Stepanova.
- Have you ever worried that Ivan would not be able to deal with the pressure of having the famous parents while working in the same field?
- We never had this problem. But we had others. While Vania was little, Zhuk and Svinin were often in our house and they were friends with him. He played with them since childhood. And he really could not comprehend at first why all of a sudden he had to address them by name and patronym.
As for the pressure of parents' fame, I tried to explain to him once and for all that he must rely only on himself. On his head and his hands and his feet. If I can help with something, it's only to give some advice. And only if he asks me to. Lena and I do not often come to the rink, for example, I have not seen the new programs, have not heard the music, even though I know what it is.
- It is a position of principle - not to get involved?
- Yes. My parents, too, had never interfered in the training process. Although when I say this, nobody believes. For some reason, people think that my name opens the doors at highest level. Yes, I have been friends with Alexander Gorshkov for many years. But I swear, I have never in my life asked anything from him neither for Ivan nor for Sasha. I think that whatever happens - so be it.
- The modern world of media, however, works in such a way that you will still be discussed and your actions and statements will be interpreted in every possible way.
- Yeah, I remember how after the World Championships, fans on social networks called Natasha Bestemyanova all kind of names when she called one of the skaters fat. But we are professionals. Therefore, unlike many others, we have the right to say such things and we understand how they are meant.
I can explain you, as a partner, what extra 200 grams of weight mean for a girl. It is a weight that can actually be noticeable on the ice and can actually interfere with the work. Too subtle sensations, fine coordination. In order to perform the elements consistently, the weight of both skaters has to be consistent as well. This is especially important when the (male) partner is not very big. You can talk all you want about the training progress, but this progress will never be really noticeable, if the dancer has to work with a «big» body. When he starts lifting her, and you can already see on his face how difficult it is going to be for him.
Sometimes I share some secrets with Ivan, for example, how to do this or that movement in the most comfortable way for both partners. After all, when it is comfortable, the movements look much easier and more beautiful.
- When you were skating with Bestemianova, you were exuding very strong energy, you were charged for the fight. Don't you think that Stepanova / Bukin don't have enough of this quality so far?
- I'll tell you a secret. When Sasha moved from St. Petersburg to Moscow, at first she lived with us. And she was so quiet and inconspicuous, I even told her to speak louder and with more energy. And then once I saw how she dances. And I realized that this girl has crazy reserves of emotion and artistry. She has just been brought up in such a way that she doesn't want to offend anyone with a careless word or deed. It is easier for her to keep quiet than to tell someone off.
- Should an athlete have this fighter instinct?
- It should be in proportion to technical abilities. The emotions alone won't get you very far, especially with the modern requirements for elements. Why, for example, open test skates were always considered so difficult? Because you do not know yet how to skate the program. How to distribute the energy, where to breathe. At the end of the season you skate it quite differently. And you can afford much more emotion.
A first any extra emotion is a potential mistake. What good does it make if a girl lifts her leg twice as high as usual if her partner is not ready for it? At competitions you never should try to outdo yourself. You have to do exactly what you are doing every day in training.
Another question is that you have to train everyday as if you were skating at the most important event.
- Did you and Bestemianova also simulated competitions in training?
- Mila Pakhomova (Ludmila Pakhomova - the first Soviet Olympic champion in ice dance) helped us with that, which happened completely unexpectedly nad by chance. She already had her own school by then, and she came to our practice at the request of Tarasova - Tatiana had to be somewhere else. We had warmed up, waiting for the coach, but Mila wasn't there. And we decided to do a run-through while waiting for her.
When Pakhomova came to the rink, we told her sadly that we were already done. And she suddenly said: «Do it again - for me. I'd like to see.»
For Natasha and me, it was a shock. In those days, it did not occur to us that you could do more than one run-through per practice. But we couldn't say no to her, could we?
The most amazing thing that the second time was much better than the first. And ever since we had realized that you can do two, three run-throughs in a row - the program will only get better. And doing it once is nothing.
- Nevertheless, last season I could not get rid of the feeling that Stepanova and Bukin were not prepared to fight for the first place.
- I don't think it was the case. The situation was exactly like the one Bestemianova and I were in the old days. We, too, could really challenge Linichuk / Karponosov and Moiseeva / Minenkov. But we were the third team. Therefore, any real competition was out of question.
I am well aware of the fact that under more favorable circumstances - if there had not been mistakes at the World Championships - Ivan and Sasha could have finished the season a little closer to the team that will be the main competition for all those three years that are left until the Olympics games. They are the team to fight. And at least for two Olympic cycles.
- You mean Gabriella Papadakis / Guillaume Cizeron?
- Of course.
- So what do you like about the French team?
- The progress that they have made in just a year. A very «cantilena» program, where each movement flows into another. Somehow they remind me of Torvill and Dean. Both teams have an emphasis on the (male) partner. The (female) partner just helps him to shine brighter.
It will be very interesting for me to see Papadakis / Cizeron this season. Last year, they had a 100% hit program - like Torvill and Dean with their "Bolero." Everything came together: choreography, technique, performance.
Other foreign teams do not seem very interesting to me. Rather, I'd expect a new interesting Canadian or American team appear in Igor Shpilband's group, for example, than to believe in the prospects of the current leaders of these countries. The French had left them behind already. Same is with the Italians. Their time is over.
- You are now talking strategically, like it was in your time.
- Of course.
- From this point of view, do you think it is strange that after the Games in Sochi, Russian figure skating federation allowed the split of Elena Ilinykh and Nikita Katsalapov?
- I still think that it was the biggest mistake of that team. Lena and Nikita should have stayed together, whatever problems in their relationship were. Look, we are still discussing the newly formed teams, how well they fit together. Ilinykh and Katsalapov were the perfect match from the start. With all their problems.
I won't go into the intricacies of the training process as I never went into it with my son. I talk like an ordinary viewer. For me, Ilinykh and Katsalapov were always interesting. Very much. No matter how prepared they were. At the same time, you will have to agree, there was no question who should have been considered the first team.
- Have you ever wanted to work in sports, and not in the theater?
- No. At the time, Natasha and I traveled around the world with seminars, doing choreography for skaters. Now it is not so interesting. I can, of course, choreograph a program, but I can imagine in advance what it will look like in the end. Not because coach does not respect my work, but because of the requirements: you have to fit a certain number of technical elements into the program, and they all have to be level four. And I do not care for elements and levels. I am interested in ideas.
- Like the French?
- Yes, if you want. You watch their program, you do not think about the elements or the steps — it's all so soft, clean, comfortable, skillful and beautiful. Although I am of course very sorry that Sasha Stepanova made a mistake at the World championships. If it had been Vanya, I would not be surprised, I guess. I would probably just sigh to myself: «Well, this is our Vanya». But I've never expected anything like that form Sasha with her outstanding mental organization.
But there is nothing to worry about - it's a lesson all the same. It's not so easy to get on the podium. Especially for the first time. When they were third at the European Championships, our neighbourhood, I believe, was up until five a.m. - that's how loudly I yelled with delight.
- At the same time, you do not attend your son's practices, you are not interested in his programs.
- Of course, I'm interested. But I'm afraid. I'm afraid I won't like them and I don't want to say that I don't like them.
- Why?
- Because in the world of figure skating, you hear all the bad things from other people. Why would I add to it?
- As someone who has spent so many years on the stage, you probably have heard the saying that you can dance when you are seventy years old, but no one needs to see it.
- I completely agree! Completely! I am pushing 60 and I am perfectly aware that when I am on stage, it is not a pretty sight. When I see myself on video, I get terribly upset: bad posture, arms dangling, no proper knee bend...
- Why then?
- For those who comes to see Bestemyanova and Bukin. To extend the feeling of youth just a little. It is clear that old age will take its toll, that every year brings more and more pain. When Natasha and I booked the ice time for practice at one of the ice rinks, everyone who was there watched with horror in a locker room how I, groaning, was putting on a special belt, knee pads, ankle braces, how I was lacing my shoes for half an hour and then spent the same amount of time trying to straighten my back standing up. They probably thought that I'd go out on the ice and scatter it into pieces as the Tin Woodman. And we suddenly started skating - decided to skate a piece of our old program. How they applauded...
- You do not care what others will say, do you?
- Of course not. Skating is such a joy!
2015